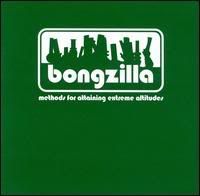 I don't get why people get so up in arms abut
Bongzilla
. Sure their name is cheesy, and they are over the top about their love for marijuana, but its called stoner metal for a reason, they love weed. They are no better or worse musicians then
ElectricWizard
,
Sleep
,
EYEHATEGOD
, or
Weedeater
(which they would later share a member of). It makes me wonder what certain people are thinking, because i'll let someone tell me how cheesy and "bad"
Bongzilla
is, and then the same person will go on to explain to me what a great band
St. Vitus
is. Please do not get me wrong, i love
St.Vitus
(both Reagers and Wino) but Wino writes/sings some of the cheesiest song i have ever heard. Any ways, This is '
Methods For Attaining Extreme Altitudes
' from
Bongzilla
.
Bongzilla
hail from Madison, Wisconsin and play, well stoner metal/sludge/doom/ whatever. This slic of canibinoid madness came out in 1998 on the ever popular Relapse Records. I would say
Bongzilla
's style of Stoner Metal/Sludge... is pretty nice the vocals can sometimes come acroos kinda Black metalish at times, with the raspy screams, and sheiks. Overall i would say that Bongzilla is like EYEHATEGOD with out the faster parts. In total, '
Methods...
' contains a whole 3 tracks of smoke induced doom that are laced with samples of quotes about Marijuana. I hope you give this a listen and maybe even enjoy it.
DUDE!