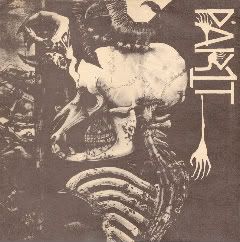 Part1
come from the U.K. and play gloomy sort of punk, kinda like
AntiSect
meets
ChristianDeath
, ya its awesome. The guitars sound so far away, and this adds a layer of spookiness.
Part1
were released on the well known label
Pusmort
. Featuring art by, you guessed it
Pushead
himself. this is their 1985 release '
Pictures Of Pain
'. They did also put out a 7" and did a track on the '
Cleanse The Bacteria comp
', plus they were also on the rare bonus 12" accompanying a few of the comps. Other then that, i don't really know anything else about this band. favorite track is '
Pictures of Pain
'.
Tear