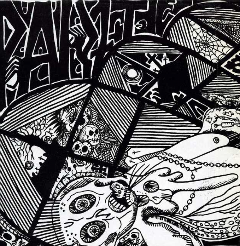 If you enjoyed
Part1
, then you'll enjoy Part 2... The prequel. This is the 7" released in 1983 on Paraworm Records entitled '
Funeral Parade
'. I sadly can not find a Sleeve for this, but i did find an article were Pushead mentions how cool the artwork was-"
The realm of death. Frenzied punk creative guitar feedback frightfully shrills terror and morose. Echoing drums pound shimmering insanity and evil. Haunting vocals taunt vivid lyrical descriptions of fear, anti-God and anti-system. True music to reality's horror show. Sullenly slower but poses the same brilliance as

RUDIMENTARY PENI

. Psychotic fold-out cover art is exceptinal. Worth your interest
."
-Pushead, from MRR. As one might have noticed earlier in my previous post, Pushead goes on to release their Lp and put them on 'Cleanse the Bacteria'. well if anyone can help me out with the Album art i would be forever thankful. Enjoy and thanks for the request.
Part2