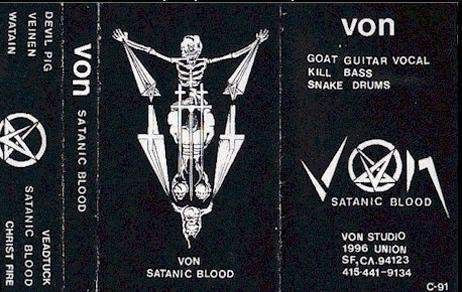 This is the epic and legendary '
Satanic Blood Demo
' from San Francisco's own
VON
. Many say that this is America's first BlackMetal band. They existed from 1989-1992 and only released one demo, and this is it. I will post the unreleased demo at a latter date. They were officially released in 2003 on the
Nuclear War Now
Label and the release compiled both demos and a live performance.
VON
is raw and minimalistic with guttural growls as opposed to the shrill and shrieking voice of most black metal. But i would have to say
VON
reminds me of
GISM
in a weird way, but in a much more minimal form, like
Darkthrone.
Well anyways, if you are aware of this band then you know what kind of impact they had on the BlackMetal communitty the had, even
Varg Vikernes
wore their shirt during his trial. And if you are new to BlackMetal i hope you enjoy this and you might have even heard a few of the songs covered before without even realizing it. Enjoy.
HERE