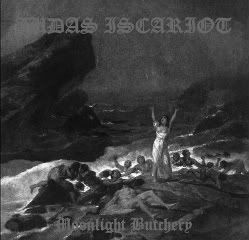 '
MoonlightButchery
' was an EP put out by none other than
JudasIscariot
in 2002.
JudasIscariot
plays mid tempo BlackMetal filled with hate and nihlism.
JudasIscariot
is a one man band from the united states who relocated to Germany. The sole member
Akhenaten
has also participated as a live member of
Nargaroth
. Anyways, this release is pure gold. Its raw, maddening, and filled with contempt for all mankind. I also just read that he has some NSBM ties...apparently another band he was in did a comp entitled 'The Night And The Fog' featuring an array of NSBM bands including
SS1488
,
Kristallnacht
,
Absurd
, and
Graveland
. the comp was supposed to be a tribute to the NSBM scene. Why is it that most of the BlackMetal bands i like end up being in some way NS. Oh well, its not like i look to BlackMetal for good moral structure or ethics. Oh and i guess now is the time where i am supposed tell some sort of convoluted story about how "i'm not racist, i love basketball"(and yes i have heard that exact phrase uttered in seriousness) but seriously, i feel that racism is a purely retarded aspect of humanities insecurity and ignorance. Besides its just lazy to claim pride in the mere fact that your parents (who happen to share the same ethnicity) once got hammered drunk, forgot protection and thought that an abortion was to expensive, cuz hangers must cost a fortune. Trash comes in all colors... Thus ends my long drawn out explaination of why i'm not a racist, blahblahblah. Enjoy the cold callous hatred of man.
Ps The track 'WinterHeart' rules.
Here