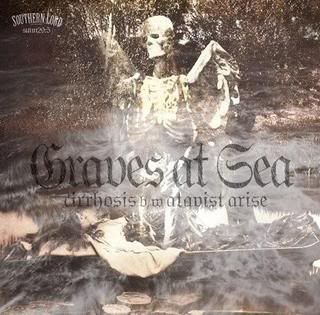 Well, i don't believe that
Graves At Sea
need any introduction. This is their 2003 release on Southern Lord(Sunn29.5) which features two tracks Cirrhosis and Atavist Arise, both great tracks.
Graves At Sea
play a crushingly slow brand of doom that is so very infectious. i had the privilege of seeing these guys play their last show at Slim's in San Francisco, it was an experience to say the least. Half way through the set Nathans vocals went out, and the audience was treated to a twenty minute improvised instrumental doom session. Then, like a trooper Nathan continued with vocal duties. Poor guy probably couldn't talk for days.From an outside perspective it must have looked strange. Nearly a hundred people bobbing their heads in unison as if some sort of cult like Worship, it was wonderful. Anyways, this is a great release, long out of print, and if you can find any of their releases do yourself a favor and pick them up. Also if you like
Graves at Sea
then do yourself a favor and pick up some
Burning Witch
(StephenO'Malley and Greg Anderson), they played the same style in almost the same way about eight years earlier.
If You Want Cirrhosis
Click Here